"In times like these.." it is as important as ever to be ready to communicate and to do just that: communicate.
This is our business position during the Covid 19 international emergency, and our response to it.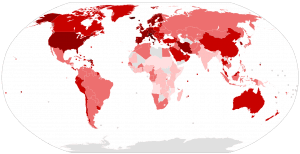 #1  Be Ready to Communicate
Let folks know you are there, and exactly what's up with your business.  It doesn't hurt if you add to the scores, if not hundreds, of email alerts we're all getting.  For the most part, I like hearing that clients and suppliers are doing their part to practice social distancing, and that they're handling the challenges of these trying times.  I prefer a blog post (you know me!) that lets your online visitors know the same thing:  You're there and you're doing your best.
Working from home is something I've done for decades.  Even when OnYourMark had a local, Main Street office, I put in at least 30 hours a week from home.  For the last 7  or 8 years now, we've been a 100% distributed, remote workforce, working from home offices and connected by technology.  For those who are making the switch to remote work, we offer tips at this discussion thread for Wisconsin Business Owners.
We're fortunate to be a marketing firm with the technical expertise and tools, as well as the habits and experience, to make working from home offices work for us, and by extension, for our clients.  Nevertheless, we miss the social aspects of life as much as many of you.  We invite you to take advantage of communicating with us by phone, email, chat, texting and screen-sharing (we can provide links for that).
We're also very fortunate that our client base doesn't include many of the hardest-hit businesses, restaurants, bars, hotels and other hospitality venues.  Nevertheless, we're all likely to feel the effects of containment efforts.
# 2  Communicate
Our availability is increasing, rather than decreasing.  We're available to clients anytime, as always, in an emergency.  Routine business times are now from 7:30 am to 6 pm weekdays and from 8:30 am to 2 pm on Saturdays.  Those hours can be extended for routine consultations as well.  Let us know and we'll find mutually convenient times.  Be ready to communicate your status to your clients.
# 3 Be Ready to Communicate and Communicate!  Our free offer to clients…
We encourage our clients to do what we're doing here:  Letting you know that we're here, we're alright, and we're ready, willing, able and eager to be of service to you.
Our free offer to you, through April 2020.  We will help you publish a similar message to the one you're reading.   Simply put your thoughts of what you'd like to say into an email and send them to me and to support AT OnYourMark.com   We'll review your message with you, perhaps add an image or two if you like, and post them on your site.  By virtue of posting on your site, your message will automatically be posted on your social networks too.   We'll update your hours at Google and Facebook as well, if required.   We'll also put a note/link on your home page, if you wish.   In all, we're giving you up to an hour-and-a-half or two hours of our time, free of charge, to do this.
We encourage you to share your stories.   We genuinely hope that you and yours are safe and well, and that we may be of service to you, now more than ever.
It's hard not to share more stories here and now, but we want to keep this brief and our focus here is on how we can help our clients.  I'll share more personal stories at my personal website at KeithKlein.ME
Please contact us if you have any suggestions or questions, anytime, or Call 262-853-7900
We'd love to have you follow us at LinkedIn.com at https://www.linkedin.com/company/onyourmark-llc/
You're welcome to "Like" and "Follow" us at Facebook as well.
#OnYourMark is on Twitter at https://twitter.com/OnYourMarkLLC