Brilliant Biz Books Series
Volume 2 Book Release Today_ Nov 14th! Digital Copy only 99 cents today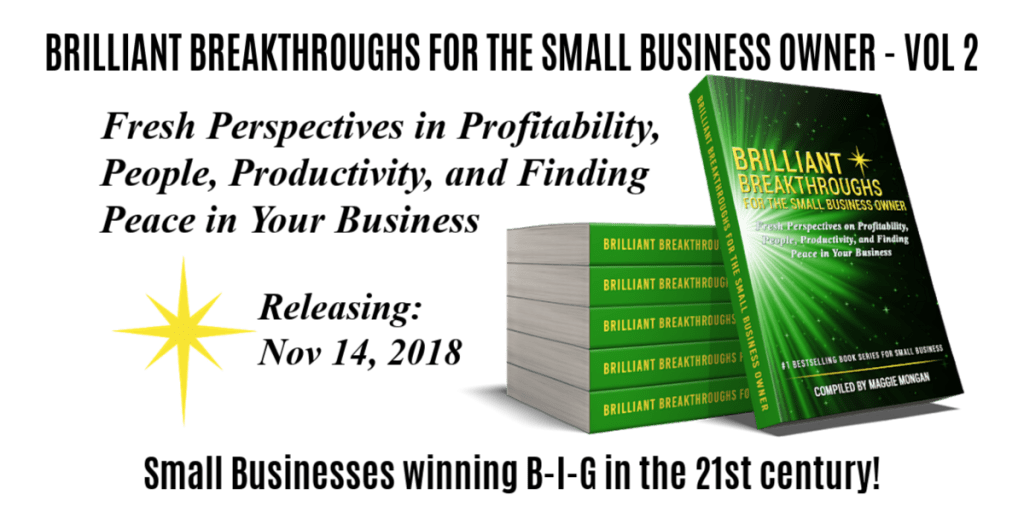 Small Business Owners & Entrepreneurs this book is designed to help you win BIG in the 21st century!
It focus on Fresh Perspectives on Profitability, People, Productivity, and Finding Peace in Your Business.
Click on: getbook.at/BrilliantBizBook2
Take advantage of our Launch Special on Wed, Nov 14, 2018 for a digital copy for ONLY 99 cents!
Want to hold the book in your hands? Paperback books are available too!
We will see you on the inside…begin by reading the Introduction first. We hear it's a very good place to start 🙂
Shine Brightly!
Your Brilliant Biz Books Series Authoring Team
The Brilliant Biz Books Series authoring team is led by my friend, client, and mentor, and fellow Wisconsin Business Owners Organizer Maggie Mongan, President of Brilliant Breakthroughs, Inc.
This post first appeared in my email, from Maggie, and was first published by me at https://www.webforging.com/brilliant-biz-books/